Dorner is Transforming Conveyor Automation by providing cutting edge solutions with best in class support.
We get your product to the exact location, in the exact position, at the exact time it needs to be there for the next phase in the process.
If you would like to speak to someone about an application, please fill out the form on the bottom of the page or call us at 800-397-8664.
---
3200 Series Conveyors With Activated Roller Belt™ (ARB) Technology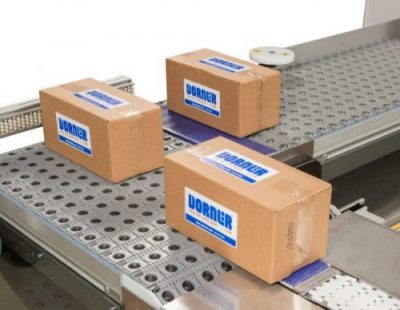 The 3200 Series Conveyors with Intralox ARB Technology use innovative conveyance technology for merging, diverting and aligning of product.
Benefits of 3200 Series ARB Conveyors:
Flexibility to handle multiple product sizes without the need for changeover
Minimizes floor space consumption
Increased system reliability
Eliminates costly system controls, reducing complexity
Encased moving parts provide safer work environments
Low maintenance solution
Handles product as small as 6″ x 6″
Learn more about 3200 Series ARB Conveyors.
---
Low Profile, High Performance Precision Conveyor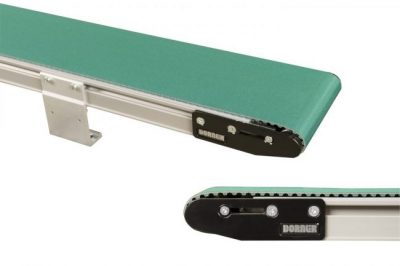 Dorner's Precision Move technology is designed to move your product to the exact location, at the exact time and in the exact position it needs to be for the next phase of the production line.
Features & Benefits
Reverse v-guide provides positive tracking along entire length of conveyor
Positively driven belt ensures belt does not slip and allows for higher load capacity
1″ width with tip up tail to allow for easy belt removal
23 unique gearbox interfaces with support for 158+ motors
Additional widths and guiding options
SmartFlex Helix Conveyors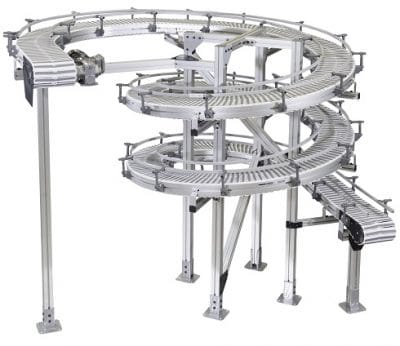 Compact spiral & helical curve, flexible chain conveyors for complete flexibility!
Benefits of SmartFlex Helix Conveyors:
Unique, flexible design provides greater flexibility in layout

Infeed and outfeed may be positioned at any height or angle
Custom infeed and outfeed lengths allow the conveyor to extend beyond spiral, reducing the number of conveyors required

Small foot print maximizes valuable floor space
Patented side roller chain reduces corner friction allowing for faster speeds and smooth product handling
Applications include accumulation, buffering, cooling product between processes or machines, and more!
Learn more about the SmartFlex Helix.
---
Solve Challenges with Engineered Solutions
Dorner recently worked with a customer who needed to accumulate product before it was manually packaged. In the past, we have accumulated products on low friction conveyor belts and on recirculating conveyors.For this application, a custom rotating accumulation table was built to hold small runs of bottles which would then be unloaded by hand. Dorner provided two systems to be integrated into the discharge of the customer's injection molding machines.

---
Select the Right Conveyor with Dorner's Product Selector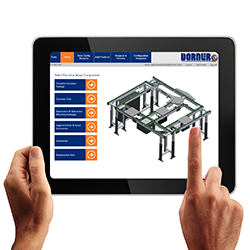 Need help selecting the best conveyor system for your application? Dorner's new Product Selector within its D-Tools program is just the answer.
The new Product Selector is available on all of Dorner Tools (D-Tools) conveyor productivity applications, including its 2D and 3D CAD libraries, DConfig and Dpricer. This new feature is designed to help people select the best conveyor system for their application, and can be accessed by visiting www.dornerconveyors.com.
The Product Selector works by having people check off features and benefits that are important to them in their conveyor system relative to the application they're specifying for.
Get More Info